Space & Astronomy Gifts- T-shirts, Posters, Mugs : Mars Rover Missions Spirit & Opportunity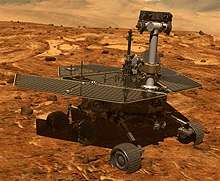 Mars Rovers 'Spirit' and 'Opportunity'
The Mars Rover Exploration Mission has sucessfully landed the first of the two probes, the lander 'Spirit'. Spirit landed safely and is communication with Earth, having already transmitted back the first low resolution pictures. Further high resolution pictures are anxiously awaited.

Spirit is placed in the highly anticipated landing site in Gusev Crater, which is believed to be an ancient Martian dried up lake bed.

New Year's Cheers to the men and women of NASA and JPL for this exciting mission!