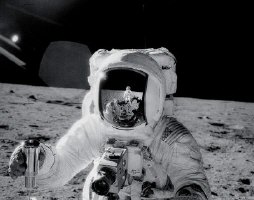 Alan Bean on Moon Apollo 12
November of 1969, Apollo 12 astronaut-photographer Charles "Pete" Conrad recorded this masterpiece while documenting colleague Alan Bean's lunar soil collection activities on the Oceanus Procellarum. The image is dramatic and stark. Bean is faceless. The harsh environment of the Moon's Ocean of Storms is echoed in his helmet's perfectly composed reflection of Conrad and the lunar horizon. The last manned mission to the Moon was Apollo 17, when will we return?
Credit: Charles Conrad,Apollo 12, NASA
This picture can be found below in Screensaver size for viewing or download following the merchandise on this page.